Hey, rad readers!
Bless Valentine's Day for giving us an excuse to talk about our OTPs (as if we ever need an excuse though!)
Here are ten of our favorite fictional couples!
---
Audrey Rose Wadsworth & Thomas Cresswell from Stalking Jack The Ripper
Gideon Lightwood & Sophie Collins from The Infernal Devices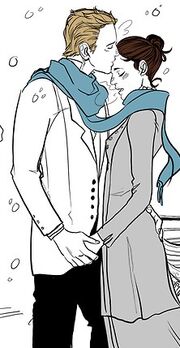 Simon Lewis & Isabelle Lightwood from The Mortal Instruments
Percy & Monty from The Gentleman's Guide to Vice and Virtue
Towa & Mitsuki from Waiting For Spring
Jo Monfort& Eddie Gallagher from These Shallow Graves
Helen Wrexhall & Lord Carlston from The Dark Days Pact
Veronica Speedwell & Stoker from A Curious Beginning 
Arsinoe & Billy from Three Dark Crowns
(How is there not fan art for this awesome series?? Someone plz draw a pic of Arsinoe and Billy asap!)
Jane & G from My Lady Jane
---
Let us know who your OTPs are in the comment? We'd love to bond over our mutual love of fictional relationship haha!
We hope your day is filled with chocolates and flowers!
xoxo,
Ash & Lo